Budapest is absolutely stunning in April.
Beautiful. Charming. Adorable. Marvelous.
Its magnificence is so overwhelming that I had difficulties with fully focusing on Craft Conf 2015 - very interesting conference that took place few days ago in Budapest exactly. Interesting enough to write a blog post about it.
Let me start with ...
... my reasons for going there
At first glance, there may be some better ideas for spending pile of PLNs (quite big one - I've covered all the costs (incl. plane, few nights in a reasonable hotel, conf ticket itself) with my own money) - hardware upgrade, classroom training, certification exam, hedonism ;) etc., but conferences have some pros that can't really be easily matched:
it's a chance to meet (in person) a variety of professionals from the most successful software developing workshops on this planet (like Google, Amazon, Netflix, etc.) - not just meet, but listen to their stories & ask your own questions (believe it or not, vast majority of them are very glad to share their stuff)

apart from the smartest engineers, you can network with the great industry thought leaders of the past & today (& maybe tomorrow, but you'll never know) - people who had great influence on you & maybe have shaped you (in professional terms) to some extent. It's an unbelievable feeling (believe me, I have experienced that few times already in the past)

and there are other participants as well, from different countries / companies / industries. They deal with different platforms / languages / frameworks. And that's absolutely great, because that makes them have different perspectives, opinions, preferences - just listening to what people say can be extremely beneficial. In my case, it's part of my job to meet various people from various projects, but there are many people who have worked for the same company, in the same place, on the same product(s) for several years - in such circumstances it's really easy to get stuck within your own niche, not realizing that the world around is already light years ahead.
But that's not all
What else did I expect from Craft Conf 2015?
Energy. Inspiration. Batteries recharged.
I wanted to re-focus myself on stuff I want to do.
On ideas & visions I believe in.
I deeply desired to re-adjust myself on the top of the wave I've always used to ride.
Because:
the company you work for is meaningless, you can always find another one
your team is irrelevant, there can be always another one
technology you're dealing with isn't first class stuff either, it's never too late for switching
The most critical thing is living according to your own code - fully utilizing your potential, following the opportunities & always DARING FOR BETTER / FASTER / MORE. The world can be full of minimalists are happy with whatever blind fate brings, but A people want to work with A people, right-o?
Sorry for the long introduction, but I'm supposed to review something, it's good to be very specific about expectations & evaluation criteria :)
Back to Craft Conf 2015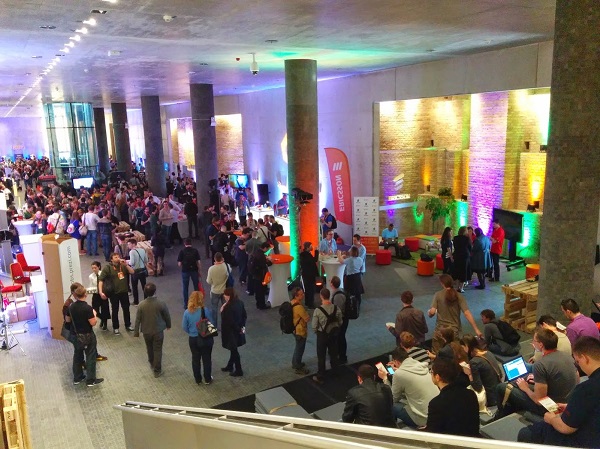 It didn't disappoint. Surely, there are always things that could go better:
sound system (or rather room acoustics) in 'garage' stage was lacking a bit; I've also heard few people complaining on the distance to 'tent' stage, but it wasn't a problem for me
idea & the timing of 'sponsor sessions' (on both days) were seriously flawed
orgs didn't have many ideas for filling the time between sessions (during the day) - well, socializing is pretty great, but some raffles / challenges / competitions / etc. could be really great; surprisingly, they've gave up on any visible for of feedback as well; and the stickers, where the hell were stickers?! :)
I was so overhyped with the opportunity to meet Grady Booch in person, ... just to find out that he'll be streaming his session from Hawaii ;/
more, more, MORE under-the-hood details from practitioners during the sessions -> we're all quite familiar with the theory, now tell us how you make it real
there were few 'mis-shot' sessions - either too 'philosophical' (for my taste) or clearly missing a point (the overall concept for session seemed insufficiently elaborated) - but these were just few (or I was lucky while picking)
there were many sessions regarding Microservices, so if someone had been fed up with this topic already, it could have been annoying - personally, I didn't have any problems with that
... but the truth is that there were far more good stuff. Some examples:
great keynotes - all of them: starting with Jessica Kerr & Dan North, ending with Marty Cagan. If I were to distinguish one of them, it would be Mary Poppendieck - personally I feel honoured with the privilege of listening to her words of wisdom live again

Adrian Trenaman's session about Microservice architecture in Guilt was an exemplification of what I expect from conf session: warstories, lessons learned, evolution path, clarification for the most crucial decisions, etc. Much obliged.

Kyle Kingsbury. Dread. Terror. Menace. Aphyr. 'nuf said. But seriously - some like him, some don't (to put it mildly), but no-one can deny that he's a world class expert in distributed systems (& databases in particular). Great session.

I haven't seen that many female speakers on any conference before. What is more, I've picked many of those sessions & to be honest I'd risk the statement that the average quality of the sessions held by female speakers was clearly higher than that of male speakers. Examples? Neha Narula (do all 'Nehas' rock at tech? Narkhede does as well), Caitie McCaffrey, Camille Fournier.

There were so many interesting sessions (& safe-choice speakers) that the choice in some timeslots was ridiculously hard - in some cases I wanted to be in 3 places in the same time ... Just to illustrate this: I've regretfully skipped sessions of Michael Feathers, Alvaro Videla, Randy Shoup, Dan North (his 2nd, non-keynote session) or Pieter Hintjens.
Ok, this blog post is getting far too long already. Let's get to ...
... the final words:
location = superb (Royal Gardens Bazaar in Budapest, on the hillside of Buda Castle, beat that)
organization = pretty much flawless (a tiny bit of time mgmt & keeping the door closed in main stage would be great)
content = solid
atmosphere = decent
I don't think I could afford skipping Craft Conf 2016 next year. See you then in beautiful Budapest.