Part I can be found here
Options considered
By now, you should already have an overall idea what I was expecting of my new devmachine. What models did I consider to fulfill these needs?
I've made quite a thorough market analysis, but to be honest, XPS 13 (the 1st version with the borderless Inifinity display, I didn't like the old XPS 13) was the love at the first sight ...
Actual impressions
Regarding the spec, I've decided to go for:
QHD+ (3.2k x 1.8k) screen (it's touch-enabled, but I don't finger-smear the screens ;P)
5th gen Intel Core i7 5600U
8 GB of RAM
256 GB SSD
Size ...
It's tiny. Not small, but really tiny. First impression was like: "OMG, I've just bought myself a doll-laptop." 13 inches screen practically WITHOUT a border around display - you can imagine how small it is. For the first 20 minutes it was a bit awkward, but I've got used to the size faster than I've expected. That plus its overall thinness & low weight, makes it VERY convenient to work with, ANYWHERE I want. Carrying it is not a problem at all, once its sleeved (Dell sells dedicated sleeves that perfectly fit its size) it takes very little of precious space in the bagpack / messenger bag.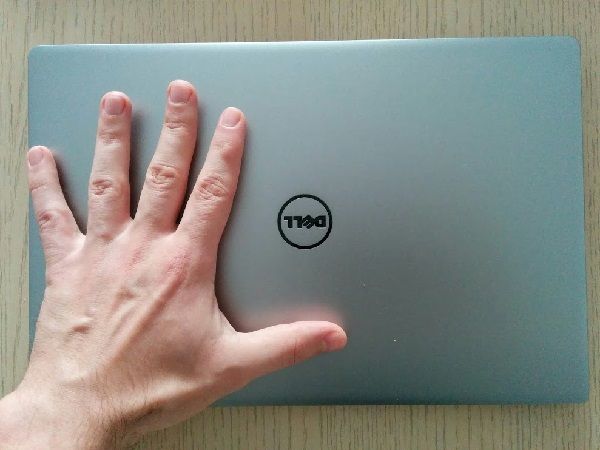 The size itself implies two interesting questions:
do I need QHD+ for such a small display?
how does it feel to use such a tiny keyboard in such a thin ultrabook?
Screen ...
I still use FullHD (1.9k x 1k) 15.6 laptop on daily basis & this res feels just enough, but ... I simply couldn't resist such a gorgeous display ... Call it a fetish, ultimate geekdom, gadgeteering, whatever -> this screen is something I am staring intensively at for several hours per day, I want it as good as possible. Do I really use the full potential of QHD+ resolution by packing whole screen with multiple windows with tiniest fonts on the edge of readability? Of course I don't, it would be tiresome for my eyes. But knowing I could is the type of assurance I like :)
Btw. did I mention that Infinity display looks like freakin' million dollars? :)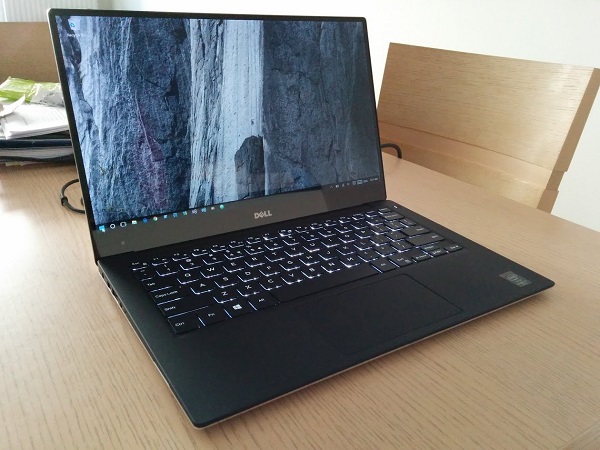 Keyboard ...
While being probably the best laptop keyboard I've ever used, I still hate it. For the sole reason of it being non-mechanical. I'm addicted to mech keyboards & I have one in every stationary location I work in, BUT I can't sacrifice the mobility. I know that are some gaming laptops with mech keyboards, but they are just too heavy & cumbersome, so I've accepted the fact (long time ago) that I have to live with standard keyboard in my new dev machine.
Obviously, space is very limited, so there's no numeric keypad, but who'd miss that really? The layout for the rest is a pretty standard one (as are button dimensions), I didn't notice many deviations in practice (typos due to inconsistencies with IBM Model 8 layout I use everywhere else) WITH ONE NOTABLE EXCEPTION: PageUp & PageDown. With XPS'es small keyboard it was not possible to stash them above left and right arrow (which are already smaller than other button), so they share the same button with up & down arrow (& required Fn to be pressed to be triggered). It IS painful, I admit. And I think I didn't get used to that fully so far.
Raw power ...
The only concern I had about this spec was the amount of RAM. 8GB seems a bit ... yesterday. Like I've mentioned in the previous post, I like my setup light & so far 8 GIG wasn't any kind of problem, but I'd feel more comfortable if I had a higher margin ... Sadly, Dell doesn't give me much space for change here - even upgraded specs (Dell has upgraded the whole product line of XPS 13 with 6th gen of Intel procs few weeks ago) doesn't have an upgrade option for 16 GB ;/
Leaving aside the memory concerns, other specs are absolutely top-notch (benchmarks just prove that thesis). However, some people may cry for the missing Ethernet port (no issue for me) or camera being put not in the middle, but at the bottom left corner of the screen (no issue for me either).
Mobility ...
Mobility is not only about size & weight, but also about battery life & power adapter. I was a bit afraid about the power consumption of high-res display, but fortunately - no major complains in any of these two areas. Battery is sufficient for 8+ hours of typical work & the power adapter is surprisingly small - even carrying it around isn't really a big issue.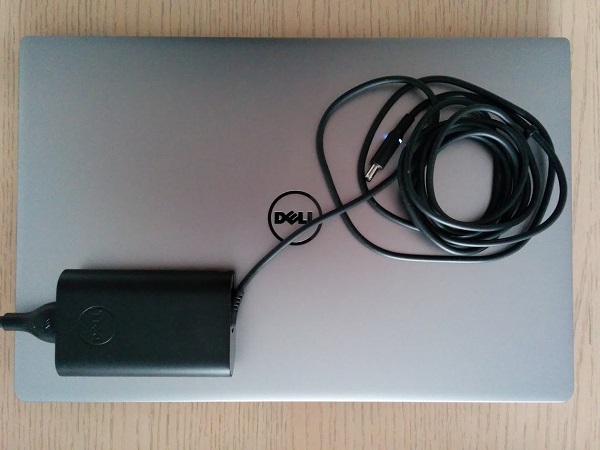 Other stuff ...
Some random things you may find interesting:
My model came with Windows 8.1 pre-installed. Upgrade to Windows 10 was trivial & went perfectly smoothly. Additional bloatware (some Dell crap & McAfee boggerizer) was limited & I was able to uninstall it without problems. Needless to say, there are no issues with hardware/drivers compatibility in Windows 10.

Touchpad ... works ... That's all what I can tell as I'm a keyboard person.

Temperature-wise: to be frank I didn't check CPU temp, but the case itself doesn't warm up much, at least it didn't catch my attention (I didn't give it much thought tbh), which means something by itself.

Noise-wise: it's ultra-book - doesn't have much space for loud fans and / or mechanical disk drive, what would you expect? :D

Keyboard is backlit (you can turn it off, ofc). If you care.

Price-wise: the model with pimped display is pricey, no point in denying. But I knew what I was paying for & in the end I think it was worth it.

Gaming-wise: this is devmachine, it's not meant for playing games :) that's what stationary desktop behemoth is suited for :D
Wrapping up
For now, I'm happy with XPS 13. It has delivered exactly what it has promised. I wanted mobility, responsiveness & minimal inertia - that's exactly what I've got. For now.
How long will this perception (yes, it's all about perception) last?
Is 8 GB of RAM sufficient long-term?
Is this tiny thing durable enough to survive all the mobility I've been constantly rambling about?
These are the most interesting questions - I'll be reviewing these in a year or two, I guess :)