Have you ever met a Bottleneck Superhero (BS)? I guess you can't tell as the term doesn't tell you anything. No surprise as I've just coined it for the sake of this blog post :> Yes, people who know me in person do know how I like naming things (or people) ;)
Hero of the (every) day
Ok, let's start with the description of such a "role model". Imagine a person (in a company / team / project) who:
has got the most knowledge / experience (relevant to the overall context) or just the "broadest" perspective (his/her knowledge is the most widely applicable)
has got practical skills & most likely has already proven them (at least in the eyes of the superiors) in action
is always eager to dedicate himself to any new task / job / topic - up for any action ("to save the day") that offers an opportunity to prove her/his superiority & expertise
... buuuuut that's not all yet.
In addition to the list above, BS ...
usually works alone (or surrounded with rather passive acolytes, who act as flatterers and worshippers), like a one-many-army, so no-one distracts her/him or slows the pace ...
sometimes even actively discourages giving tasks to other people ("I'll do it twice as fast & in a way that will rule out potential future re-work"), convinced that there's no-one else more suitable to save the world
in time, such a person tends to spend more & more time on maintaining its position of unique, critical expert (e.g. by always putting him/her-self in the centre of action of every discussion / thread / topic) than on actual, value-focused work
So, what now? Sounds familiar? Some would call such a person a "star player", but in fact I'd rather use the term "latent cancer".
BS vs Extras?
That's actually quite funny, but such people are quite frequently favoured (stupidly) by management -> it's so good to have a local equivalent of Chuck Norris, isn't it? Well, in fact negative consequences outweigh the good ones by far.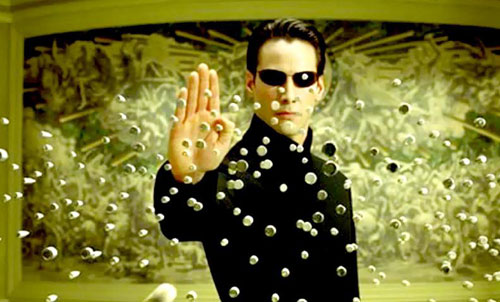 What we're facing here is a perfect example of a toxic bottleneck that not only restricts the overall productivity of whole unit, but also has a detrimental long-term effect in many different areas:
effectively kills any empowerment in the unit - BS does all the interesting stuff, BS has to stamp mark of approval on each idea, BS discourages everyone else from being active - all of that with the connivance of the management: no wonder that everyone else just stops to care
BS siloes knowledge in an exponential way - only BS knows how stuff made by BS works, by putting him/her-self always in the centre & excluding others, BS cuts everyone else off; (s)he could share it with others, but of course (s)he's always busy with "saving the world"
BS is miles far from being transparent or predictable -> even if extremely dedicated, (s)he switches topics / tasks just too frequently, so you'll never know when something is done (excuse is always the same: "I always keep working on what's the most important"); even if very efficient, one person can't out-scale her/him-self to match everyone else's dependencies
BS's "criticality" tends to corrupt him/her - make untouchable, enable to blackmail whole unit or even organization (usually "in silk gloves")
Cutting the ulcer
I've encountered such a situation many times already - bah, I've even followed the same anti-pattern myself (w/o seeing its ridiculousness, at least initially) - makes me feel ashamed even until now. Sadly, in majority of cases, there's a tacit overall approval (especially among people in charge) or (at best) significantly delayed (when the horse has already bolted). Whilst in fact there's just one cure & it has to be applied quickly and resolutely:
Individual has to be spoken to - issue has to be clarified to him/her & (s)he has to be asked to stop this behaviour, very openly & explicitly
Management (product/project/whatever) has to starve this person's BS instincts by treating him/her like every other person in unit - no one should feed the monstrosity, for everyone's good. I can't emphasise it much enough: message has to be public & very clear - there's no consent for such behaviour
If it doesn't work, there's just one way out - to fire BS. As soon as possible & without any hesitation. It may sound crazy (like getting rid of MVP), but in fact this act clearly serves unit's (teams/projects/etc.) good, by eliminating egocentric attitude.
It's a team game, after all.
Pic: © maxutov - Fotolia.com