EURO 2020 has just finished a few days ago, and it was a hell of a ride. Regardless of conditions (no single location, pandemic period, lack of fans at the venues), the players have created some spectacular shows - ones we will be getting back to for years or even decades.
Nevertheless, besides the sport aspect, top-notch football is also an excellent opportunity to observe top-notch leadership. After all, this is a team sport - the history proves that there's a huge difference between a well-gelled team of solid artisans and a gathering of eleven brilliant individualists who can't be arsed to act as a single organism. And the great team truly needs a strong leader(s) - to make a difference, release synergies and multiply the joint effort into outstanding results.
---
Most likely, when you think 'leader' in the context of EURO 2020, you have a vivid memory of Simon Kjaer and what he did when his teammate collapsed to the pitch and suffered a heart attack during a game against Finland. Probably everyone has seen that, so I won't be diving into too many details - his immediate reaction has probably saved Eriksen's life, but he did not stop there. He has organized the rest of the team to arrange necessary privacy for the resuscitation and calmed down Christian's shocked wife.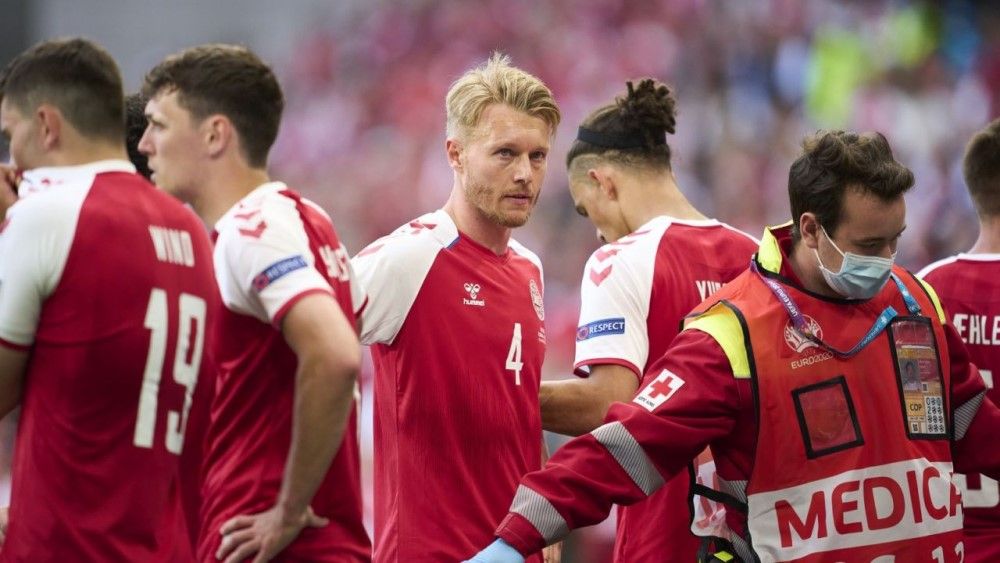 A true friend and a real hero - one who didn't get paralyzed by an unexpected situation but immediately took the lead and acted confidently & decisively, orchestrating the efforts of others.
But he was not the only example of real-life, in-the-trenches leadership during this tournament. And in fact, these are the other examples I'd like to focus on here. I believe there are some learnings here that can inspire you to level up your leadership in everyday life as well.
Here's my list:
Kasper Schmeichel
After it was clear that Eriksen has escaped the claws of death and the game between the Danes and Finns will be continued after a break, the cameraman has recorded Kasper Schmeichel approaching individually every teammate. The goalkeeper was asking how they feel, empathizing, trying to cheer them up, mobilizing (which was a challenge, keeping in mind what has just happened ...), clapping on their shoulders.
He was there for them, boosting their mental strength with his confidence, grit, determination. When others had trouble with calming their thoughts and finding appropriate words, he was a mainstay, a rock-solid pillar to support the whole team in the mental sphere.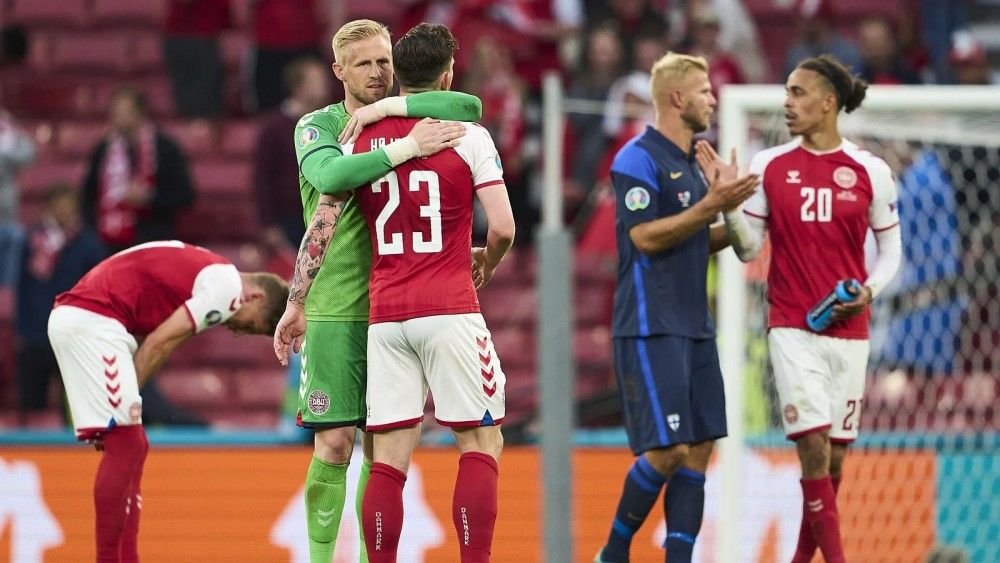 For me, at this moment, he was absolutely monumental.
Giorgio Chiellini
Do you recall a scene in the semi-final between Spain and Italy when the captains of both teams (respectively: Alba and Chiellini) were drawing the order of penalty taking? If not, search the web for a video - it's totally worth it.
Giorgio has basically eclipsed Alba. He has destroyed him and leveled the ground in the least abusive way ever. With his ease, self-confidence, even the physical dominance over nearly paralyzed Jordi, who behaved like a terrified kid.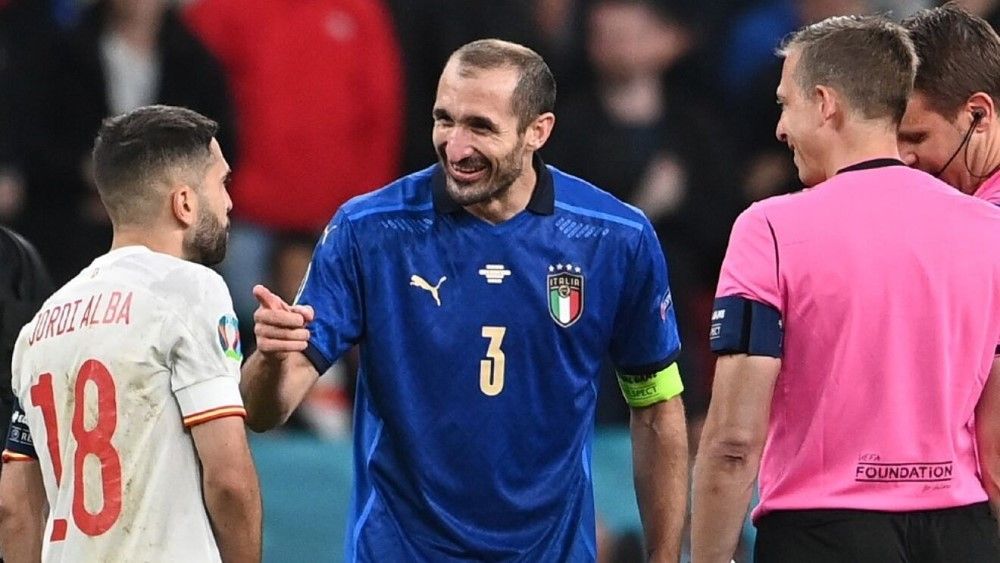 The whole world was looking at them (including both teams), and it was Chiellini who was literally beaming, like someone utterly resistant to any kind of stress. Needless to say, by contrast, Alba looked precisely the opposite. Remember the stakes at that very moment. What kind of message was their posture sending to all the nervous penalty takers from both teams? IMHO Chiellini looked exactly like someone you'd like to follow, even if it means going through fire and water.
I don't think that had zero impact on the final result of the shoot-out ...
Luka Modric
Luka Modric is a genius playmaker, one of the best ones of his generation. He plays in one of the strongest clubs (Real Madrid CF), but when it comes to the national team, he's surrounded by players of a significantly lower caliber - which is a fate he shares with such star players like Cristiano Ronaldo, Robert Lewandowski, Marek Hamsik, Gareth Bale, Mohamed Salah or Zlatan Ibrahimovic.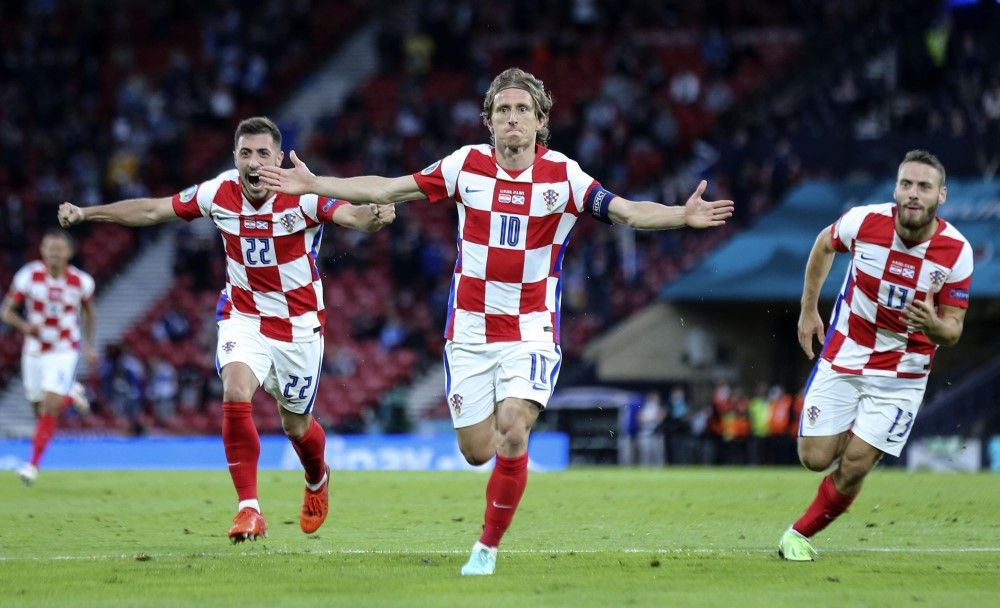 However, contrary to some of the before mentioned, he never treats it as an excuse. Even after a long, exhausting season, when playing for the national team, he gives 120% and, like a football Napoleon, takes the responsibility and leads every charge in Croatia's game. That doesn't make them favorites for the highest stakes, they didn't rock this tournament either, but definitely, they have nothing they should be ashamed about.
TBH Modric is not the nicest guy ever, actually quite introverted and somewhat unpleasant, but on the pitch he's there for the team, adding energy, pushing all the cogs and pistons, basically driving the whole machine. I already pity the Croatian team after when he decides to end his career ...
Southgate, Phillips, Shaw, ...
Frankly, I was rooting for Italy in the final. But I need to appreciate some English players and their coach for their behavior just after the penalty shootout has ended.
As you probably remember, Southgate has appointed 3 young and relatively inexperienced takers (Rashford, Sancho, Saka) - which didn't end well for the Sons of Albion. Unsurprisingly, those young players (especially Saka) were absolutely devastated - however, even before the cameramen have switched to the near plan to transmit their grief, their colleagues (Phillips and Shaw first, others have followed) were already with them, cheering them up and not letting them be alone with the loss and sadness.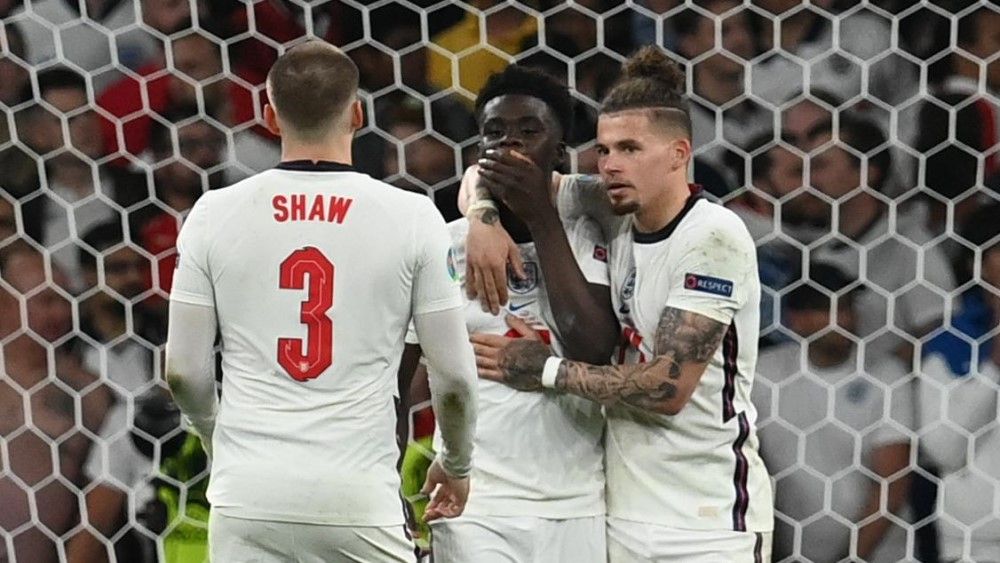 Imagine the emotional 'weight' of this moment. Imagine the gargantuan pressure just released. These gentlemen were facing a tsunami of expectations (England had a chance to win something for the first time since ... 1966?), they were so close, and ... now it was irreversibly gone, after the cruelest of all lotteries in sport.
Many would just collapse in disbelief. Lose all the energy. Need time to cool down. Probably even cry in anger. But that's not what a true leader does. Because there will always be more battles, and what doesn't kill us only makes us stronger.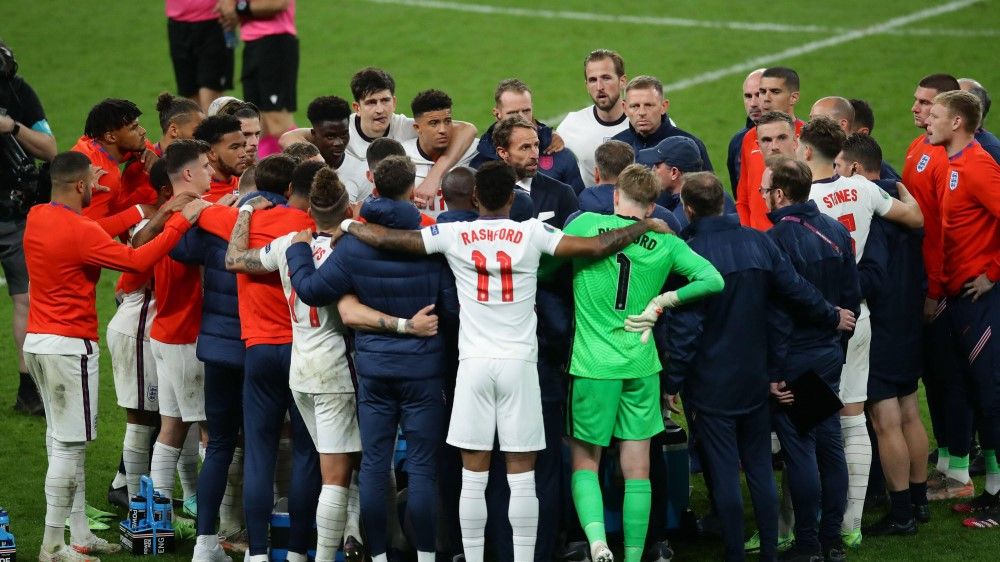 The best Phillips, Shaw, and Southgate (who has quickly gathered the whole team in a circle and gave a speech to them) could do, was to make sure the damage is contained and no permanent scars are left (Southgate had to live with his own trauma after not scoring a critical penalty during EURO 1996).
In that hard moment, they did great. They've passed an important test.
The other side of a coin
Obviously, not all the teams have done their best during EURO. Personally, I think we can attribute at least a few of these failures to the lack of true leaders. I won't be pointing fingers, but you can probably recall some scenes like these just by yourself:
frustrated star player waving hands, rolling eyes theatrically - all his gestures aimed to express "what more could I do in this company?", while distancing himself discreetly out from all those "failures" around him
both victories and losses lived separately in the team - players don't cheer/grief together, there's no visible chemistry between them - everyone's biggest concern is not to be blamed for a critical mistake, because they don't trust anyone will back them up
post-match conferences filled with excuses, evasive answers, or even covered by the most junior members of the squad (because key players didn't want to attend)
... and the typical final act - after getting eliminated from the tournament - everyone staring down at the pitch, avoiding to make any eye contact, pretending they are invisible, dreaming of being somewhere else ...
---
So what would you say? Am I the only one looking for such details instead of enjoying pure football skills? Or maybe you've spotted some more examples of inspiring leadership on the pitch?